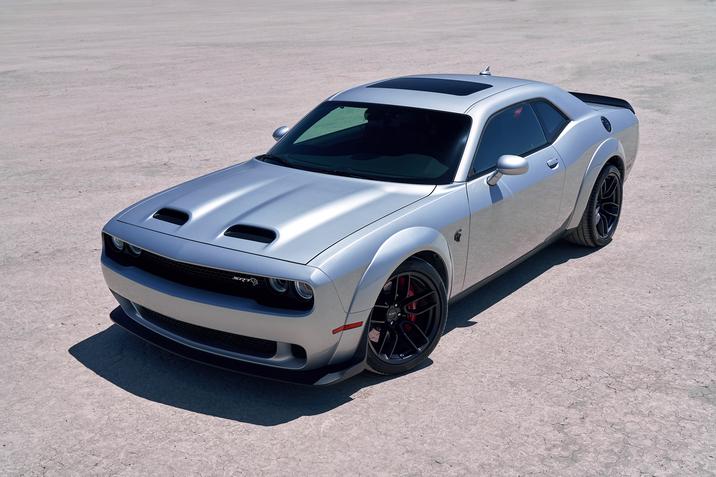 2019 Dodge Challenger SRT Hellcat Redeye Announced
The Dodge Challenger SRT Hellcat Redeye is essentially brothers-in-arms with the Dodge Demon as one of the most powerful, swiftest, and the most boundary-breaking production muscle cars out there today. The SRT Hellcat Redeye being heralded to all the world is most welcomed by fans, but also looked at with amazement by those new to the muscle car scene as well. That's no wonder due to facts like these for the Redeye: 
0-60 miles per hour (mph) acceleration of 3.4 seconds.
10.8 seconds at 131 mph to run a quarter mile in elapsed time - The fastest GT production car.
Supercharged HEMI engine gets 797-hp and 707 lb.-ft. of torque.
Only factory production car with both After-Run Chiller and SRT Power Chiller.
A ground-breaking top speed of 203 mph within the Challenger line.
Largest factory supercharger of all production vehicles - 2.7 liters. 
18 percent increase of air-flow rate over preceding SRT Hellcat engine.
What powertrain is within this vehicle?
The SRT Demon's engine is within the Redeye: a supercharged 6.2L HEMI high-output V8 engine with a pavement-battering 797 horsepower and 707 pound-feet of torque, as well as an 8-speed automatic TorqueFlite transmission. Augmentation starts within the drivetrain itself, with a high-speed valve train, a bolstered fuel injection system, a bigger supercharger, a streamlined lubrication system, and reinforced connecting rods and pistons. Dodge further installed an air box that sees greater induction by way of three separate sources of intake air: a new dual-snorkel hood, an inlet in close proximity to the wheel liner, and a driver's-side "Air Catcher" headlight. Increasing the rpm limit that is 6,500 from the standard SRT Hellcat engine, adding both an After-Run chiller and an SRT Power chiller, as well as 41-spline half-shafts that get a 20 percent increase in torque capacity means Dodge isn't fooling about with the design of the Redeye.
2019 Dodge Challenger SRT Hellcat Redeye Performance By Design
"Performance, performance, performance" could be the mantra for the Redeye, with features like the SRT Performance Pages, a torque reserve that allows up to 3.9 psi of boost at launch and up to 55 percent additional engine torque, an adaptive damping suspension, a Line Lock to "heat & clean" the tires, SRT drive modes, a 10-second Launch Assist function, a standard Brembo brake system, and customizable electric power steering as standard. Importantly, the SRT Drive Modes assist drivers, new and veteran alike by letting them manipulate features such as transmission shift speeds, paddle shifters, suspension settings, and horsepower, all via the Uconnect touchscreen.
Exciting and Well-Designed Features:
A red eye featured on the Hellcat fender badges.
A 220-mpg red speedometer.
A signature flat-bottom and leather-wrapped steering wheel with paddle shifters.
An SRT logo that is lit up from the back.
SRT Hellcat Redeye logo on the key fob.
An SRT Hellcat Redeye logo splash screen.
A Gunmetal SRT Hellcat instrument panel badge option.
Dual final drive ratios available: standard 2.62 or optional 3.09 for increased launch capability.
A Light Black Chrome instrument panel badge with the SRT Hellcat Redeye logo.
3 seat choices: Laguna leather/Alcantara with embossed logo seats, Nappa leather/Alcantara with an embroidered logo, or Laguna leather with embossed SRT Hellcat logo.
Why Get a 2019 Dodge Challenger SRT Hellcat Redeye?
Well, besides the one full-day session at Bob Bondurant School of High Performance Driving with a new Redeye purchase, it's an amazingly ready for performance vehicle in almost every way you would want. With the racy reputation preceding it, as well as the toughened and exciting features to back it up, it's actually an easy decision to make! While we await its arrival, come take a peak at the current inventory of
Dodge Challengers
on our lots today!