What's Your Car Worth?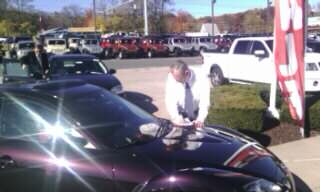 The best way to get the most accurate value for your vehicle is to have it appraised by a trained appraiser. That's why at Lustine, we offer a free no-obligation appraisal. We will evaluate the overall interior and exterior condition, pull a Carfax report, and check the mileage. Then we will compare your car to others in this market that are exactly like yours, so you can be sure to get every penny your car is worth! What's more, we'll buy your car even if you don't buy ours!
Click on the link below to get the preliminary evaluation from Kelly Blue Book. Then we will contact you for a convenient time for you to stop by for your free no-obligation appraisal!
Click Here to get the Kelly Blue Book preliminary
evaluation and arrange for your free appraisal!